The stats are in: 2,500,000 Australians do not eat meat or severely limit meat in their diet. That is 12.1% of the population. That figure is up from 9.7% a decade ago. Those figures cover many younger people making the change to eat a diet based on plants for ethical reasons, and Australians in their middle age looking for a healthier lifestyle. The CSIRO has also identified that one in six Australians are now looking for dairy-free options, despite any allergy issues. This means we need to be aware that businesses, local governments, volunteer organisations and peer associations looking to finish the year with a celebratory get-together will be looking for venues with a good variety of plant-based snacks, finger food, entrees and larger meals.
The importance of vegetarian options
As you know, it is essential to understand how potential clients are making decisions about where they will be holding their events and celebrations. Naturally, budget and location are big deciders, but the people making the booking will also have the word 'vegetarian' high up on that checklist. For many people making the booking, it can be a game changer. For them, it's not just having the offer of a 'vegetarian option', but having a flexible menu that accommodates a broad range of tastes, but one that embraces plant-based foods.
People across the food business are acutely aware of the changing taste of Australian diners. Research from the UK shows that 92% of vegan and vegetarian meals were consumed by people who are not necessarily completely meat free but people who are eating plant-based meals for health, ethical and even taste reasons. Ingredients such as tempeh, tofu, types of fungus and even wheat gluten have been used as meat substitutes for centuries and are increasingly used in modern menus. There are entire cuisines based on these plant-based proteins with rich sauces and layered labour-intensive techniques used to replicate meat. 
Have you tried Edgell Plant Based?
A more convenient way to put meat-free food on the table comes from Edgell Plant Based. They make a range of plant-based foods made from natural soy, coconut oil, plant fibre, natural seasonings such as salt and pepper, and natural flavours into a product that looks and feels like traditional protein such as beef and chicken. Not only that – Edgell Plant Based products also cook the same as meat. There is no need to retrain staff when you put it on the menu.
The range contains one of the building blocks of the kitchen – Edgell Plant Based mince. It looks, cooks, and tastes like minced beef but is 100% plant-based and perfect for every dish from moussaka to lasagne to Bolognese. There is Edgell Plant Based meatballs, perfectly textured and ready for your favourite sauce. Cook up a Edgell Plant Based chicken schnitzel or a Edgell Plant Based burger for some great value meals.
The Edgell Plant Based range has been developed with both the food lover and the environment in mind. They believe their product should have: better taste; be better for you; be at a better price; be better for the planet, and be a better range. There is also a great story to tell your customers. When ordering Edgell Plant Based, they are going to enjoy a product that uses 99% less water, produces 90% fewer emissions, uses 93% land and 43% less energy than traditional protein.
While these products are new, they are not novel. They have been tried and tested, and the team at Edgell Plant Based have developed traditional and international dishes using these great products. There are detailed online recipes for dishes such as banh mi, korma curry, pide, rustic schnitzel roll, deluxe burger and chimichurri taco. With a few simple tweaks, you can put some great popular dishes that customers know and love on the menu. Edgell Plant Based mince allows chefs to cook crowd-pleasers such as lasagne to keep the whole crowd happy from meat lovers to flexitarians to vegans. And, as you know, there is nothing that brings people together like sharing a meal and Edgell Plant Based helps you cater to numbers without having to cater to food options.
Shop the Edgell Plant Based range.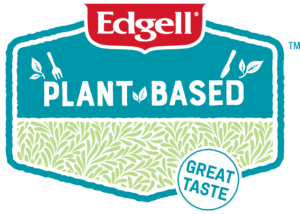 An ingenious selection of plant-based protein. View the range on myBidfood today.